Art course 'Traditional Japanese crafts and dyeing'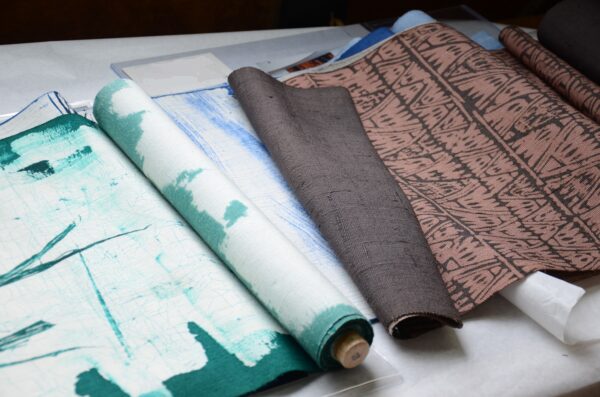 A workshop and lecture on dyeing with dyeing master Kozaburo Nishi.
AM: Cloth dyeing experience using ancient Japanese dyeing techniques
(The work is taken home by the participant. Can be used as a handkerchief or scarf.)
PM: Lectures (stories about dyeing techniques and Japanese culture, introduction of valuable Edo and Meiji era moulds, etc.)
Note: The image is a photograph of the work of dyeing master Mr.Nishi.
Period
①September 16, 2023 (Saturday), ②September 23, 2023 (Saturday) 10:00-14:00.
Organized by
Institute of 21 Century Culture and Arts, Inc.
Artist profile
Kozaburo Nishi.
90 year old active dyeing master.From an early age, she learnt dyeing from her father, Shigezo Ogita, an Edo-style dyeing master.It will soon be 70 years since the company became independent in Kawaguchi City.He invented his own method of "kokechi" dyeing, and has passed on his unique sensibility and traditional dyeing techniques to the present day.
Related
information
Target audience: ①9/16:Junior high school students and above(Adults are also allowed)、②9/23:18 years and over
Capacity: 20 participants
Participation fee: Junior high and high school students ¥2,000 ,Adults ¥3,000
Application: Please send an email to event@atlia.jp with the subject "Event Application" and include the following details in the body of the email (If there are multiple applicants, there will be a lottery system)
Deadline for applications: ①9/16 (Sat): deadline 9/6 (Wed), ②9/23 (Sat): deadline 9/13 (Wed)
①Name of the desired event
②Preferred date and time
③Full name and furigana (phonetic spelling) of all participants
④Age and grade
⑤Postal code and address (including building name for apartment complexes)
⑥Telephone number (contactable in case of emergency)
⑦How you found out about this event (e.g., saw it in Kawaguchi PR))


・Please ensure that you can receive emails from @atlia.jp.
・We will send a confirmation email within three business days of receiving your application and notify you of the results by one week before the event.
・If you do not receive an email even after the above dates, please contact us by phone.
・If you have difficulty applying by email, you can also apply by fax (048-240-0525) or postcard (Atlia Event Department, 1-76 Namikimotomachi, Kawaguchi-shi, Saitama 332-0033). For inquiries about all events, please contact event@atlia.jp.


Note: The progression of the course and inquiries and reservations are taken only in Japanese.

*There will be a lunch break around noon.